Our Farm to Plate initiative is up and running and we are looking for donations or estimates on costs to purchase beef directly from the farmer. We have open dates coming up and would love to keep the cycle of fresh beef going for our school. The next date we need will be November 2nd. We will donate every two weeks after that. (November 16, November 30, December 14. We will then resume donations/purchasing mid January. The drop off time to Dehaai Processing is 7:30 am on Tuesday mornings. This beef needs to pass STATE inspection. We have been turning beef into 85/15 hamburger. Recommendation would be to have this beef grain fed for 45-60 days prior to coming to the locker. We are trying to prevent from having to add fat from other animals. With beef needing to pass state inspection, please do not make inquiries for sickly beef that do not pass inspection. All of that meat is thrown away at the processing plant if there is a failed inspection. If you are interested in donating contact
philip.schonebaum@k12.sd.us
Just a reminder that tomorrow is a Tutor Day for the Lyman School District.
Everyone Welcome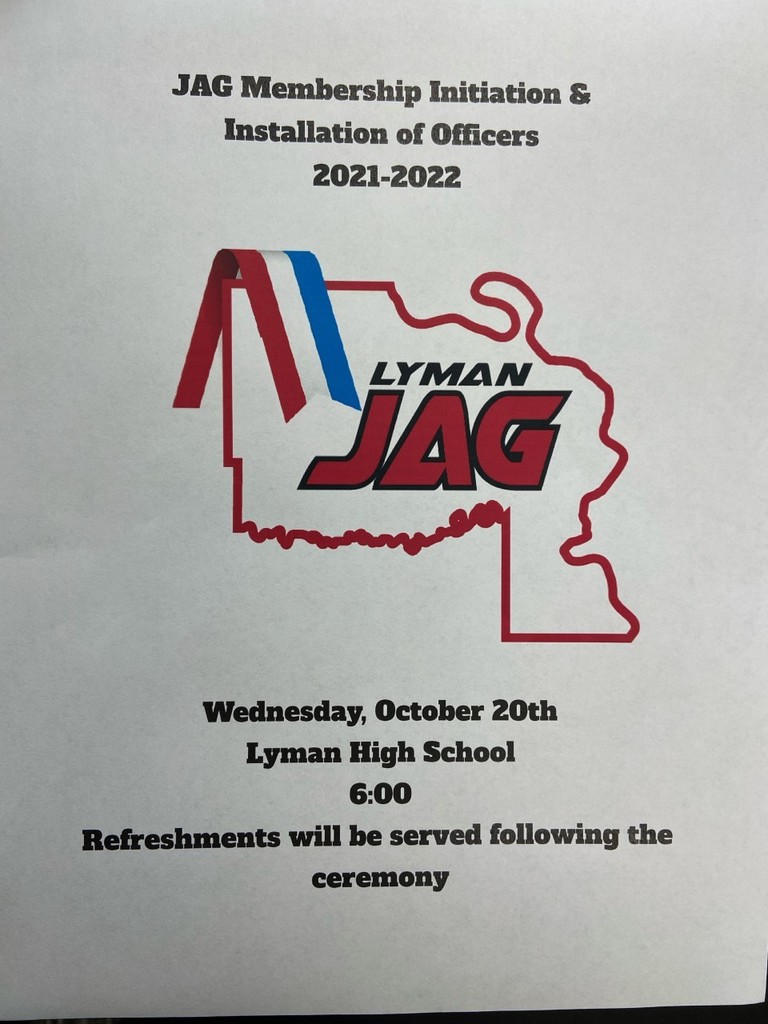 9AA 1st Round Football Playoffs, Thursday Oct. 21st. We will host St. County with a 7:00 pm start. No Activity Passes will be accepted at the gate. $7 For Adults, $5 For Students.
FYI- MSVB Game in Winner tonight is at the Armory.
Thursday, October 14th – - HSVB @ Philip with a 5:30 P.M. MST/6:30 P.M. CST -Dig Pink Night, coaches, players and fans are encouraged to support -MSVB @ Winner with a 4:00 PM CT Start. C and B games will play first and at the same time. A Team follows. -Region XC @ Gettysburg - 1:00 PM Start.
Delta Dental's mobile dental truck will be parked at Lyman Elementary in Kennebec tomorrow, Wednesday, Oct 13th. If you'd like to have your children seen, please contact Kateri at the office at 869-2213 to schedule an appt for tomorrow. Paperwork can be filled out before the time of the appt, or we can send it home to be filled out, that way if you are unable to be present while the bus is here, they can still service your child. This is a great opportunity to have your children's teeth checked at little to no cost!

Lyman Farm to Plate Initiative, Hello Lyman Family, we have exciting news. In the September board meeting the board accepted a bid from Dehaai meat processing out of Chamberlain to butcher donated meat for the school. The school district uses approximately 100 pounds of hamburger in the K-12 schools when we utilize beef in our meals. This creates a need for cattle at a quick rate to help us continue to offer our kids great meals. We have secured our first donation, and this is a call to have more donations. Dehaai processing processes meat every Tuesday and cattle must be there for inspection at 7:30 am. The school is looking for donations on the following days. If you are not able to donate beef we understand. If you are interested at selling beef and delivering to the locker at Dehaai, please let the district know as we can hopefully work something out. We will obviously take donations first, but if we do not have donations, we will look at purchasing beef from the local farmers first. It is a priority that we give back to the communities as well. October 19 November 9 November 30 December 21 January 25 February 15 March 8 April 5 April `19 We may edit these days corresponding to how much beef we will have lined up at the time and in our storage spaces. The Dehaai processing facility can also do other animals. If you are interested in donating pork, chicken etc. please let the school district know as we may be interested in that partnership. We know fully school is for kids, you are an important part to the success of our children. The district thanks you for your time in reading this notice and looks forward to partnering with you in the future. Send inquiries to
philip.schonebaum@k12.sd.us
Respectfully, Philip Schonebaum
Change to Activity Schedule. Due to expected weather on Wednesday, the Region XC meet has been moved to Thursday 10/14 with a 1:00 pm start time in Gettysburg.
Reminder- MSFB today at 4 in Presho. No JV game to follow.
MSFB- Practice tomorrow from 3-5. (No Activity Bus)
Upcoming Events Saturday 10/8 XC in Philip, Comp Cheer in Mitchell, HSVB in Gettysburg. Monday 10/11 Comp Cheer in Faulkton MSFB- Philip @ Lyman- Start time 4:00 PM. (NO JV GAME) Tuesday 10/12 HSVB- JC @ Lyman- Start time 6:30PM Wednesday 10/13 XC Regions in Gettysburg
There is NO MSFB in Philip on Saturday 10/9.
Update: MS/JV Football in Kadoka Monday 10/4 1st Game is JV starting @ 4:30 MT, the MS game will follow that.

Please see the attached image for information on the 2021 Wall JHFB Jamboree.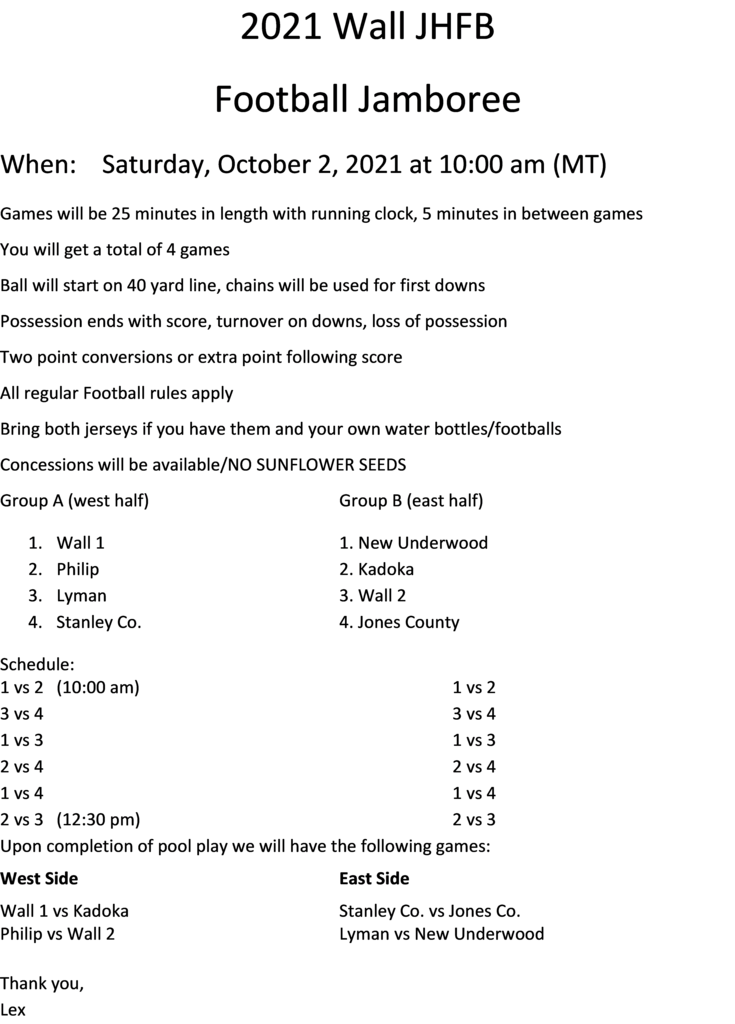 The Scholastic Book Fair will be held at the Kennebec Public library October 4-7 and 12th from 1:30- 5:30.

Good afternoon Lyman Family, This is a reminder message for the following: There will not be school this Friday, October 1, 2021 due to Teacher-In-service. On Thursday, October 7 there is a 1:30 dismissal. Parent Teacher Conferences will run from 2 pm to 7 pm. No School on 10/8 and 10/11.
Lyman Raiders Dig Pink night Tuesday October 5th at the Lyman Gardens. Come join the fun while helping raise money for Cancer patients. All money raised stays local in our Communities & will be given to individuals to help them along in their cancer Journey.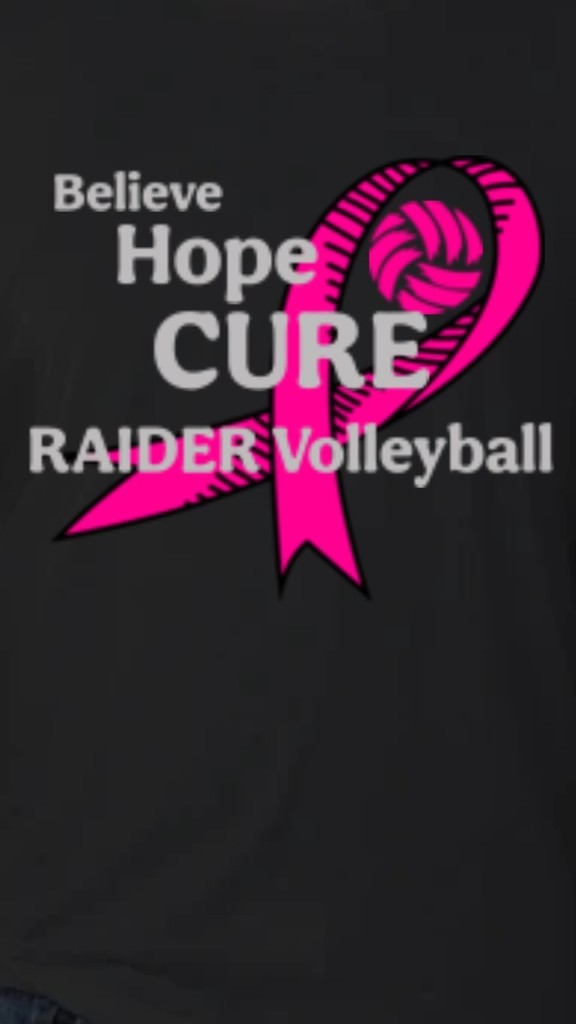 Monday 9/27- JHFB @ Murdo. (only 1 game) Starts @4:30- (NO JV) Tuesday 9/28-JHVB- KWL @ Presho (2 Games) Starts @ 4:30, JV Starts @6:30, Varsity to follow.
Friday Night Homecoming Football Game vs New Underwood Starts @ 7. Booster Club is doing a free will tailgate starting @ 5:30- Pulled Pork, Chips, and Cookies.