Events this Week: Tuesday- Regional Music Festival 7:00pm Wednesday- FFA CDE @ Newell, MS Acalympics competes at Bennett Co. Thursday- MS/HS Music Concert 2:30 in the Gardens *Gardens will be closed this Monday-Wednesday for open gym purposes with concert setups. * 3/27-4/3- The Garden will be closed for Prom Setup.

Due to expected weather for tomorrow, Lyman Band will not be traveling to Huron to play at the State Basketball Tournament. Please share and spread the word.

Congratulations to our JAG Students that competed yesterday at the Regional Conference. Also Congratulations to The first delegation of state officers for the Jobs for America's Graduates-South Dakota (JAG-SD) Career Association has been named: President: Melina Shields, Lyman High School Secretary: Tegyn Kolb, Bennett County High School Parliamentarian: Brody Stenger, Roosevelt High School, Sioux Falls School representative: Sophia Langenbau, Lyman High School School representative: Charles Kocer, Wagner High School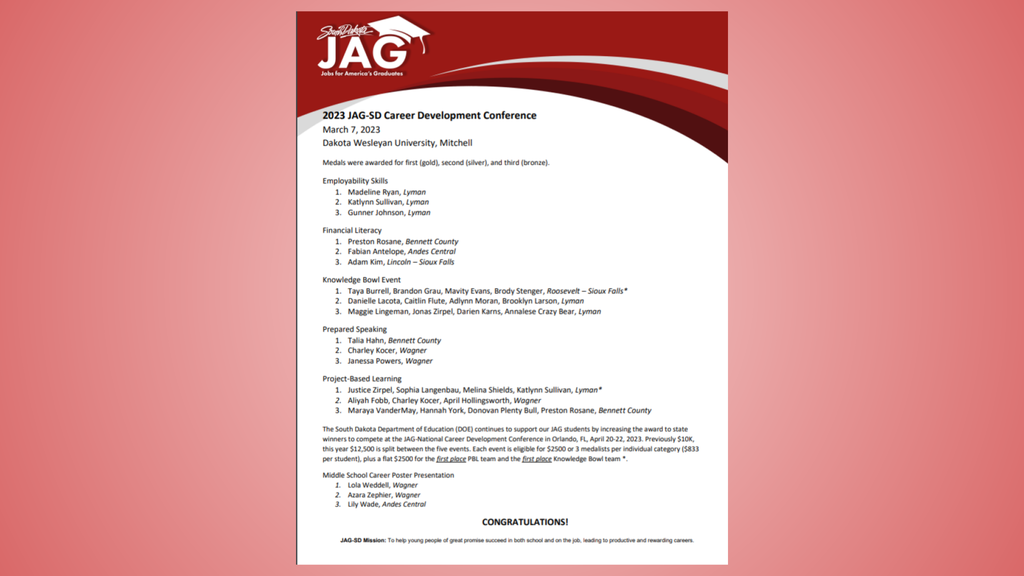 Attention to the scheduled tutor day on Friday March 10th for the middle school and high school. All students are welcome to come, but students that are on the ICU list, deficiency list, missing work, or have been requested to come in by their teacher(s) are required to attend. Parents will be contacted this week that are needed. We will dismiss students at 12:30 and run our routes at that time.

JAG students & Parents, Students competing in the JAG South Dakota Career Development conference will leave after school on Monday for Mitchell for early check in. Students not competing or attending the conference will leave at 8:45 Tuesday morning. All students need to dress in professional or business casual attire, with JAG jacket (no sweatpants or hoodies). The conference will be held on the campus of Dakota Wesleyan University. Students should return by approximately 6:30 Tuesday evening, with a bus drop off in Lower Brule, Kennebec, and Presho. -Chad Johnson

The girls are asking for you 🫵🏻 to be there tonight in Salem supporting them by wearing White for a White Out!!! 🏀Let's Goooooooo RAIDERS!!!!!🏀

Congratulations to our WGPC Girls Basketball Players Mak and Skyler 1st Team Honors Skyler - Co MVP of the Conference GO RAIDERS!!!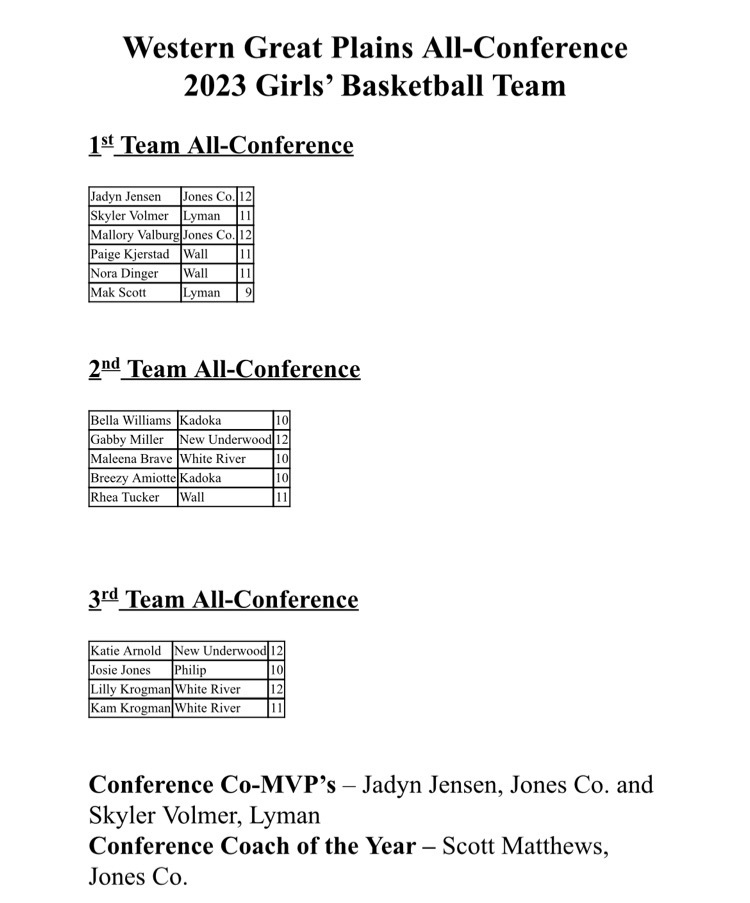 SDHSAA SoDak 16 Girls Basketball March 2nd 2023, McCook Central High School #14 Lyman vs # 3 Viborg-Hurley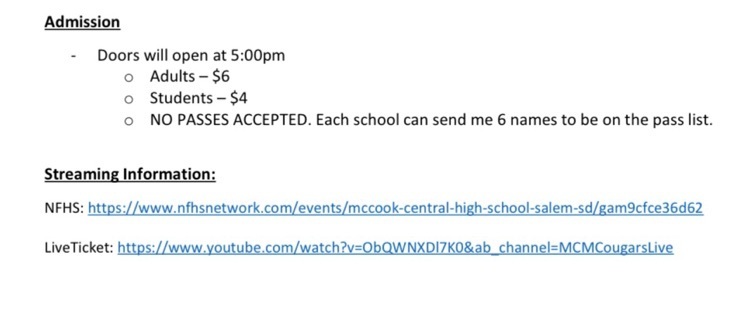 With pending weather, we have moved the game for tomorrow night to a 6:00pm start. Gates Open at 5:15. No Activity Passes.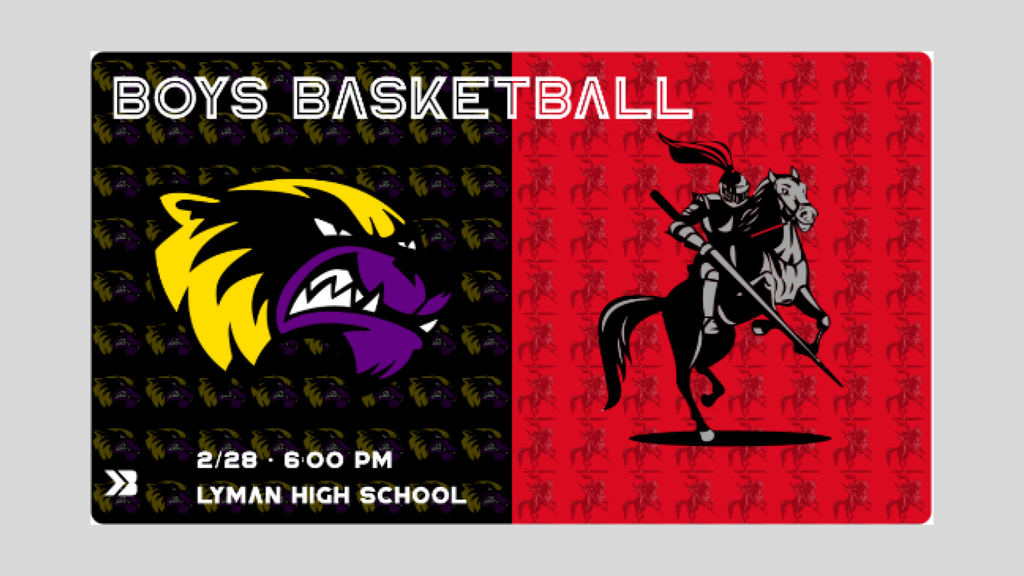 Events this Week. Prepare for changes as they come. Thanks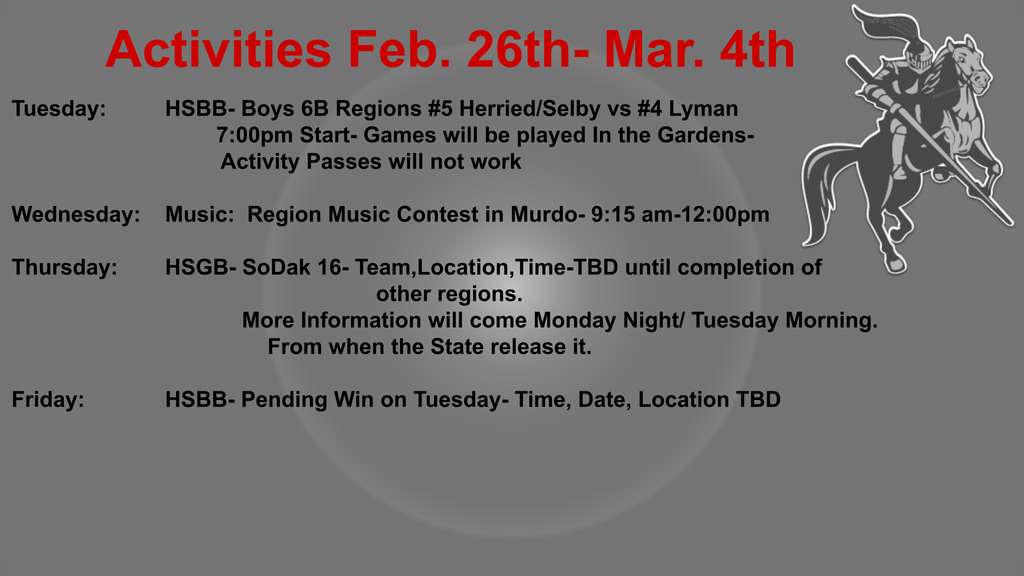 Update on the Girls HS Basketball Regions. The game has been moved to Friday Feb. 24th. Start time is 6:00pm in Potter County. If need be, Plan C would be Saturday at 2:00pm. Thanks.
Good evening: With the understanding that classes in the Lyman School District are cancelled for tomorrow, this also cancels our scheduled Parent-Teacher Conferences. We have planned for this, and our staff will be initiating contacts with parents starting tomorrow. All Lyman teaching staff will be reaching out to parents via phone call, e-mail or personal/virtual conference (by request) to provide updates on their children. PT Conferences will not be rescheduled. Please feel free to contact your child's teacher(s) or building principal with questions. Staff Contact info:
https://www.lyman.k12.sd.us/staff
Thank you for you support of your child's education. Have a great day.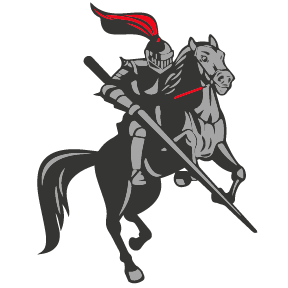 Good evening: Classes in the Lyman School District are cancelled for tomorrow, Wednesday, Feb. 22. There are also no Parent-Teacher Conferences. There will be a follow-up post regarding PT Conferences shortly. Reminder: There are also no classes scheduled for the Lyman District Thursday (Feb. 23) or Friday (Feb. 24). Please be safe and see you on Monday, Feb. 27.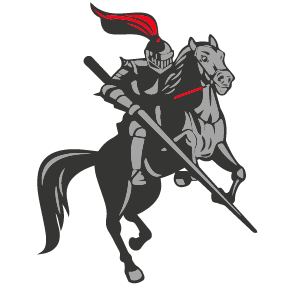 Region 6B Girls Basketball Information: With the predicted weather; we have 3 alternative plans for the #2 Potter County vs #3 Lyman matchup. Plan A: Thursday 6:00pm Plan B: Friday 6:00pm Plan C: Saturday 2:00pm. Games will be played at Potter County. Our Region will make decisions as early as possible on when to move on from plan to plan. We appreciate your patience and understanding during this process.



Events this Week.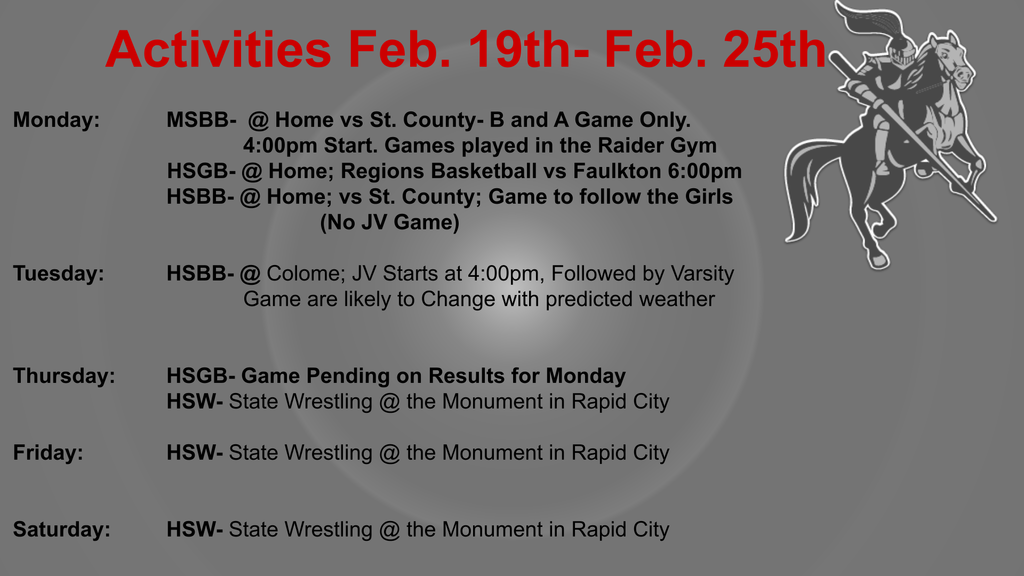 ATTENTION FOR MONDAY 2/20 Basketball Games @ Home MS Games will be played in the Raider Gym (Only B and A Game) B Game @ 4:00 pm, 5 min Quarters, 5 min Half A Game to follow with a 5 min warm up, 6 min Quarters, 5 Min Half. HS Games will be played in the Gardens 6:00pm HS Girls Regions (Lyman vs Faulkton) To Follow (7:30ish) HS Boys Basketball Regular Season (Lyman vs St. County) *There is no JV Boys Basketball Game. The Region Game in the Gardens; Adults $6, Students $4. No Activity Passes will work as this is an SDHSAA Event.

Parent Teacher Conferences will take place on Feb 22nd . For the Elementary in Kennebec- PreK-3rd grade teachers will contact parents with their scheduled times. 4th and 5th grade conferences are open with no set schedule from 2-7:30. For the MS/HS in Presho Conferences will run from 2:00pm-7:30pm in the Gardens. The Student Council will also be doing their annual Free Will Offering Soup Supper that night in the commons area. That will run from 4:00pm to 7:00pm (or until supplies last) That is open to the public. We encourage parents attending conferences to take advantage of that opportunity as well. Students that day will be dismissed at 12:00pm and we will run their bus schedules at that time. Reminder that we will not be in session the following days -Thursday Feb 23rd and Friday Feb 24th. Have a great weekend.

Reminder: Tonight is Parents Night for Boys Basketball. That will take place between the JV and Varsity game.